Cover gratings and safety mats
Cover gratings
Cover gratings are ideal for swimming pool overflow channels.

The combination of soft plastic profiles on upper side, fibreglass reinforced polyester on down side and stainless steel is suitable for conventional swimming pools, leisure pools and all types of medical baths. Cover gratings have soft, non-slip upper surface. The material is shatterproof and UV-resistant.

On the underside, the profiles are welded to plastic-coated, fibreglass reinforced polyester rods to form an effective supporting structure. Cover gratings can be adapted to suit any shape of overflow channels - round, angular, oval, and S-shaped channels. Gratings not only have excellent non-slip properties but also provide optimum drainage.

They are treated with an antibacterial, fungicidal agent to ensure excellent hygienic conditions.
Gratings are robust and long-lasting. The material is non-porous, colourfast and resistant to chemicals.
Gratings can be easily cleaned using standard cleaning agents.

For cleaning the channels, gratings can be rolled up in no time.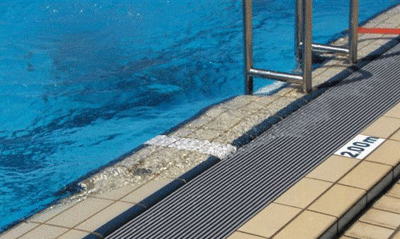 Safety mats
Safety mats for wet rooms are resilient when stood on, helping to relieve fatigue in back and legs. Mats have all-round water drainage, which means that the underside has clear spaces at regular intervals to allow water to flow away freely, even in shower rooms with one central drain.
Mats have long service life, they are UV resistant, corrosion proof, unbreakable and resistant to most chemicals in normal concentrations. Their surface is pore-free and can be treated with antibacterial and fungicidal additives to prevent the development of fungi and germs.

They are ideally suited for areas where people walk around barefoot, such as swimming baths, changing rooms and sauna floors. The mats can be cleaned with any commercially available cleaning agent, by hosing them down with water, using a scrubbing bush or by means of high-pressure water cleaner.
Various colours are available that help you create a bright and cheerful environment.