Industrial mats
Polystep is an ergonomic polyurethane mat suitable for those who most of the day stand on hard floor such as concrete, ceramics, wood, ...
Its flexibility reduces pressure on joints and muscles and consequently relieves tired and painful legs. On the long term it prevents joint damage.
The characteristic surface massages and improves blood circulation in legs thus preventing formation of varices.
It is resistant to water, detergents, acids, oils and grease. Polystep is light, safe, comfortable and non-slip mat and a good heat insulator.
Polystep mat is suitable for:
industry and workshops
shops and bars
storehouses, basements and stands
places for sport activities
laboratories and dispensaries
physiotherapy rooms
Different sizes are available:
Basic mat (cm): 60 x 90
Composed mats (cm):

60 x175, 60 x 260, 60 x 345 ...
90 x 118, 90 x 170, 90 x 225 ...
118 x 175, 118 x 260, 170 x 175, 170 x 260
Smaller size is available (cm): 60 x 45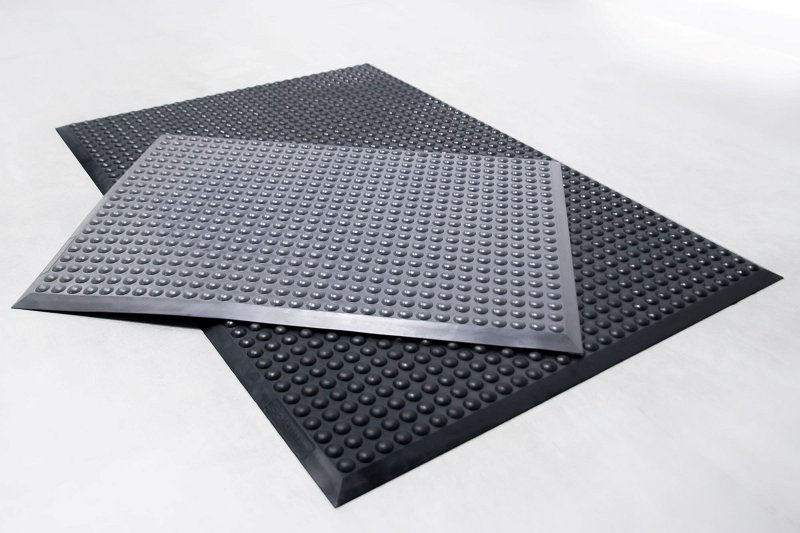 Safety gratings meet all occupational safety requirements for workplaces where there are dirt and heavy loads.
They are designed to be used in working environments that are slippery and likely to generate chips, dirt and liquids. The top surface has optimum non-slip properties.
The backing is additionally provided with a non-slip coating. The robust gratings can be used outdoors, in wet and dry conditions.
To be able to work properly you need to stand safely and comfortably.Safety gratings are highly resilient, yet extremely robust. The material - recycled PE - provides optimum safety at all times. Dirt, chips and liquids just fall or flow through gratings.The carefully selected material is resistant to oil, grease and most industrial chemicals.